Sony Premiers Xross Fade – DJ Style Sound System
Sony has premiered a "DJ-style" shelf system with a dual dock for iPod devices dubbed the XROSS FADE. Sony claims the Xross is "perfect for mixing and playing music from iPod players, CDs and other music sources, XROSS FADE helps create the ultimate party soundtrack." Yeesh!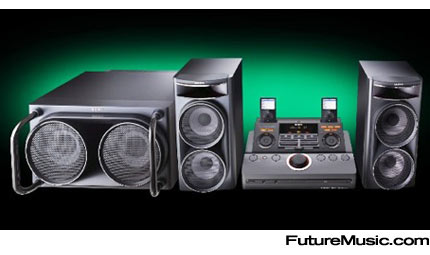 Part of the Muteki series of stereo systems, the Xross Fade is clearly aimed at the dorm room dork who wants to fantasize about being Tiesto while getting drunk on Genesee Cream Ale and dancing around in his soiled underwear. OK, we'll step off of Sony's throat here…
The system sports 450 watts of total power output, and comes with DJ-style features, including a cross-fader with monitor cue and a built-in two-channel mixer. DJs can mix two songs or fade into the next song without missing a beat. No pitch control, and thus no beat-matching.
The Xross Fade's interface and two scroll wheels allow for easy iPod navigation without the need to touch the docked iPod players . The Xross Fade system also has a USB recording function that saves mixing sessions to a USB device in the MP3 format without a computer.
For MP3 files, the system's MP3 Booster+ feature allegedly improves audio quality by restoring sound that is lost during compression. The Xross Fade also features some sort of basic drum machine that can layer loops and percussion over the mix. Sony says this attribute gives your music "extra thump" (seriously, who writes this stuff?? –Ed.).
The Xross Fade system includes a CD player, an AM/FM tuner, and a line-in jack for listening to non-iPod MP3 players. Users can mix music from these sources as well as their iPod players. The system converts CDs and AM/FM radio to MP3 files as well.
Sony's new Xross Fade will set you back $500 and is available now. More information on the Sony Xross Fade.