Bug Brand Announces New AudioWeevil & Unleashes More Weevil08's, BugCrusherMicros
The Bug-Man himself, Tom Bug has informed us that he has just released 20 new
Weevil08s and six BugCrusherMicros. A new AudioWeevil design was also unveiled.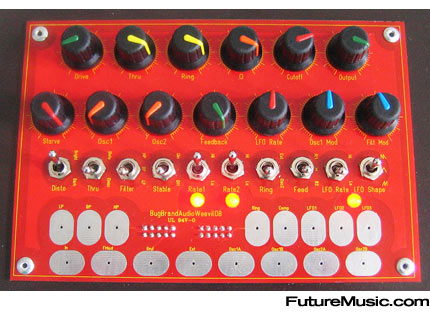 The batch of 20 new Weevil08s come in two new color schemes, Yellow with blue dials / lights and Blue with yellow dials lights. Tom is still deciding whether or not this batch of 20 will be the final run of the W08 since he's developing a the next generation of Weevils.
Tom also unleashed a small batch of BugCrusherMicros.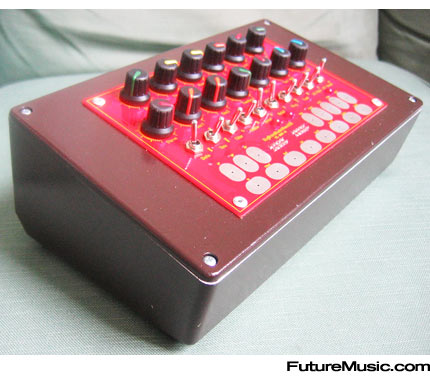 Tom has also announced a new AudioWeevil design. A new build technique has resulted in a combined front panel and touch plate with 16 body contact points, all decorated with yellow silk-screen legend on red pcb-material. Although it shares many of the same attributes of the AudioWeevil07, the new model features:
» A powered, driven input for clean/distorted/modulated signals feeding into a filter based on the old Wasp synth offering Lo/Band/Hi-pass response and great resonance.
» Twin oscs, starvation, ringmod-feedback and external processing
» Modulation for the filter and one osc comes from a variable saw/tri/ramp LFO with ranges from superslow to audiorate modulations
» slope front enclosure and powered by 6xAA batteries in an underside compartment.
» 13 dials, 10 switches, 16 body contacts!
The initial batch of 10 units will be available in the near future.
Also in development are the kits for the Workshop Oscillator Machine. Tom tells us that there's 20 kits all ready to go, but he's still working on the documentation so that "everything is covered in detail."
The BugBrand Weevil08's are available now for £100. The BugCrusherMicro start at £70 and six are up for grabs now. No pricing has been announced on the AudioWeevils. More information on Bug Brand gear.