Antares Unleashes Auto-Tune Evo & Vocal Studio
Antares Audio Technologies has released Auto-Tune Evo, an update to their professional pitch correction technology. In addition, Antares also released Auto-Tune Vocal Studio, a bundle of vocal processing tools.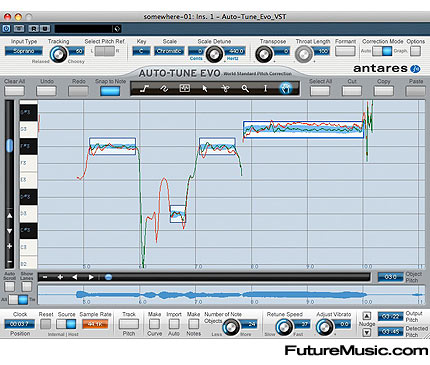 Like previous versions of Auto-Tune, Auto-Tune Evo provides the ability to correct the pitch of a voice or solo instrument in real time, without distortion or artifacts, while preserving all of the expressive nuance of the original performance. Auto-Tune Evo includes an Automatic Mode for real-time pitch correction as well as a Graphical Mode that displays the pitch envelope of the audio to be corrected along with a selection of graphical tools that allow precise manipulation of the performance's pitch.
While Auto Tune's patented processing technology has always provided unmatched speed and accuracy, for Auto-Tune Evo, Antares' Dr. Andy has gone back to the proverbial drawing board to create a seriously evolved voice processing technology that takes advantage of the hugely more powerful computers that are now the norm for digital audio recording.
The result is Evo Voice Processing Technology, offering powerful new features and capabilities along with pitch detection and correction that is substantially more accurate and reliable over a much wider range of audio input quality.
Features:
» Dramatically enhanced core technology
» Redesigned user interface
» Reorganized common controls
» Real-time pitch shifting (Native versions only)
» Formant correction (Native versions only)
» Throat modeling (Native versions only)
» Massively resizable Graphical Mode window
» New Note-based pitch correction and pitch shifting
» Object-based Retune Speed settings
» Real-time display of output pitch
» Comprehensive programmable keyboard shortcuts
» New Pitch Graph display mode
» Graphical Paste function
» Enhanced pitch displays
» Nudge controls for pitch correction objects
The Auto-Tune Vocal Studio combines the Native or TDM version of Auto-Tune Evo, the latest generation of the world standard in professional pitch correction, with the 10 vocal processing plug-ins of AVOX 2, the Antares Vocal Toolkit, to provide everything one needs to produce world-class vocal tracks. At a price that represents a substantial savings over the prices of Auto-Tune Evo and AVOX 2 purchased separately.
The Auto-Tune Vocal Studio is available now in a Native version for RTAS (Mac OS X and PC), VST (Mac OS X and PC) and Audio Units. Also available is Auto-Tune Vocal Studio TDM, which includes Auto-Tune Evo TDM (Mac OS X and PC). Studio costs $899.00 for the Native version and $1099.00 for TDM version. All Macintosh versions are universal binaries.
Auto-Tune Evo is available now for TDM (Mac OSX and PC), RTAS (Mac OSX and PC), VST (Mac OSX and PC) and Audio Units (Mac OS X) at a U.S. Evo costs $399.00 for the Native versions and $649.00 for TDM versions. All Macintosh versions are universal binaries.
Upgrades to Auto-Tune Evo are available for purchase and download by current registered Auto-Tune owners.
More information on Antares Evo and Studio.