Sonos Unleashes Two New ZonePlayers, ZP120 & Z90
Sonos has unleashed two new ZonePlayers, the ZP120 and the Z90. Both sport MIMO antennas for extended range, which doubles the wireless distance between nodes.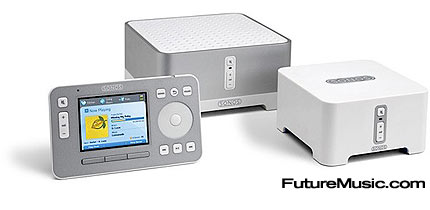 The ZP90 (receiver only) and the ZP120 (receiver plus built-in 55W amp) support SonosNet 2.0. Sonos also released 2.6 version of its desktop software, which catalogs up to 65,000 songs. Sonos also provides coupons for $200 worth of free music from eMusic and Livedownloads.
Sadly enough, the controller has not been updated — but maybe Sonos will announce that for the Holiday season.
The Sonos ZP120 costs $499 and the Z90 will set you back $349. A BU150 package is also available (both new ZonePlayers plus the original controller) for $999. More information on Sonos ZP120, Z90 and BU150.