Apple MacBook Touch – Computer Tablet Rumors Heat Up…Again
Updated!
Although the MacBook Touch rumors have been with us for some time, there's been some rumblings that Apple may be working with a major DJ software concern to develop a touchscreen DJ application for the device.
We contacted the company that was named in the rumor, and they denied that they were working with Apple on a DJ application. However, they are working on their own designated interface, which they hope to debut at Winter NAMM in January 2009.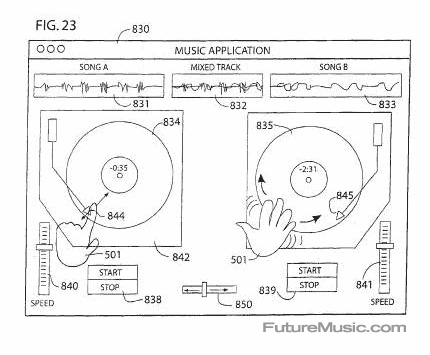 Apple has flirted with the concept of a touchscreen DJ application for some time — the image above is from a patent that Apple filed last summer — but nothing has actually materialized.
However, developing their own branded DJ application is not something that would tax their software developers and would certainly be a brilliant way to showcase a Touchscreen iMac. Let's just hope they are willing to ditch the turntable metaphor and are willing to push the envelope. We suggest they contact someone like Scott Hobbs.
However, now comes word that Apple is readying a "non-laptop, touchscreen computer for a Fall introduction" and that a major concern "will debut a DJ application for the new computer." Whether this is pure rumor pucky, or the real deal, we can't ascertain, but one thing for certain is that many of us would actually wait 6 hours for this product…