Disc Makers Premier Reflex USB Flash Drive Duplicator Line
Disc Makers is embracing the future like no other duplicator. Unlike Kodak, who flat out refused to accept the digital camera revolution until it was almost too late, Disc Makers has jumped into the Home Duplication market with both feet.
With a large arsenal of affordable CD and DVD solutions now available under the Disc Makers moniker, as well as a full compliment of supplies, Disc Makers has announced a new line of USB duplicators. The new Reflex Flash USB drive duplicators will service not only labels who want to distribute new releases on this savvy format, but also for marketing departments and small business who want to disseminate company promotional collateral at trade shows and corporate events.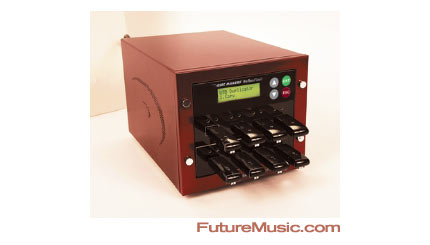 The Reflex can handle USB Flash drives are in sizes up to 16GB for large content distribution. And with transfer rates of up to 10mbps, the ReflexFlash line of duplicators will duplicate at speeds comparable to today's fastest 20X DVD duplicators, up to 330 units (256MB size files) per hour in its largest model.
As with all Disc Makers duplicators, the Reflex Flash duplicators come with a standard one year warranty and the company's exclusive perfect fit guarantee – if this product doesn't fit your needs, Disc Makers will give you full credit towards one that does.
Disc Makers also offers a line of flash media that can be customized with company logos and other graphics, custom packaging options, and storage capacities. USB Flash drive media is great for delivering custom marketing presentations, promotional give-aways, catalogs, software distribution, and more. Because of its reusable format, portability, and solid state design customized USB Flash drives are in circulation much longer than traditional content delivery methods giving you greater opportunity to leave positive impressions. USB flash drive storage formats can by used on all modern operating systems including Windows XP, Vista, MAC OS and Linux.
The Disc Makers Reflex Flash duplicators are available now and cost $699 for the 3-drive, $899 for the 7-drive, and $1,099 for the 11-drive model. Disc Makers will be offering customized USB drives in the future. More information on Disc Makers Reflex USB drive duplicators.