Division 6 Releases Midify – Turn Your Nintendo DS Into A MIDI Controller
Division 6 has released the Midify, a hack that turns your Nintendo DS into a MIDI controller. It can be installed directly into a GBA, GBA-SP, DS or DS Lite.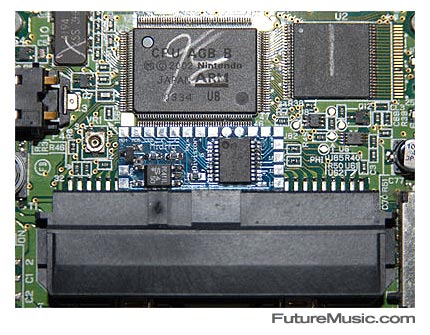 Features:
» 12 outputs
» Outputs can be active-high or active-low
» Map any MIDI note to any output
» Mono and Poly modes
» High-note and low-note priority modes
» Assign to any MIDI channel or Omni
» Pause mode ensures that first note is released before next is played
» Board dimensions: 1.04″ x .4″
» Power supply: 3.3v-5v
» Includes 2.5mm phone jack for mounting in small devices
Includes:
» Midify board
» 2.5mm phone jack
» MIDI cable (2.5mm pone plug to standard MIDI plug)
» 30AWG wiring kit
Division 6's Midify will set you back $34.99. More information on Division 6 Midify.