Mackie Unleashes 402-VLZ3 and 802-VLZ3 Compact Mixers
Mackie has revealed two new compact mixer models as Summer NAMM, the 402-VLZ3 and the 802-VLZ3 Premium Mic/Line Mixers. The 802-VLZ3 was developed for someone who "wants the overall quality of a 1202-VLZ3, but doesn't need that many input channels," declared Greg Young, Mackie's Product Manager.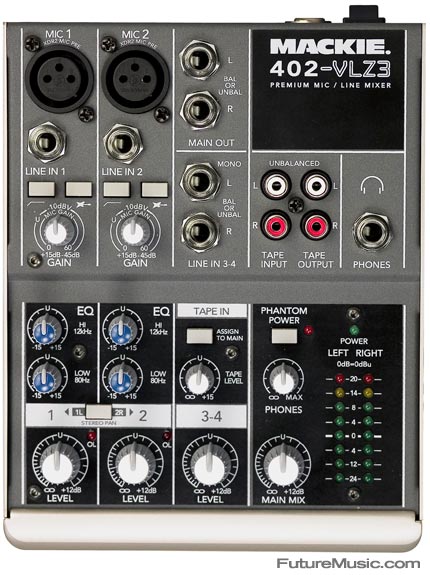 The 402- and 802-VLZ3 feature XDR2 (Extended Dynamic Range) mic preamps, Active EQ, and summing bus architecture housed in a compact, all-steel chassis. Other features include switchable line/Hi-Z instrument inputs, phantom power for use with condenser microphones, stereo LED meters, 2 mono mic/line channels, a dedicated stereo line channel and an assignable stereo RCA input channel. Mono channels each include an XDR2 preamp, switchable high-pass filter, 2-band EQ and a channel overload LED, and can be hard-panned for stereo applications.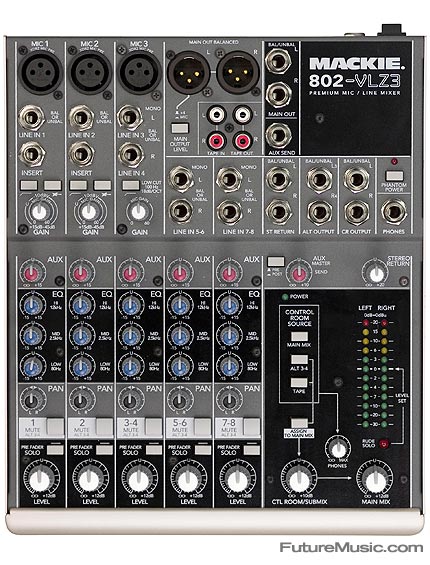 The 802-VLZ3 includes 5 channel strips with 3 XDR2 mic preamps, the Alt 3-4 bus, a pre-/post-switchable aux send, a dedicated stereo aux return, plus a comprehensive control room section.
The Mackie 402-VLZ3 and 802-VLZ3 are now available world-wide, and cost $129.99 and $259.99 respectively. More information on the Mackie 402-VLZ3 and 802-VLZ3.