SPL Releases The Phonitor – Headphone Monitoring Amp
Sound Performance Lab (SPL) has released The Phonitor, a headphone amplifier that the concern dubs a "headphone monitoring amplifier system."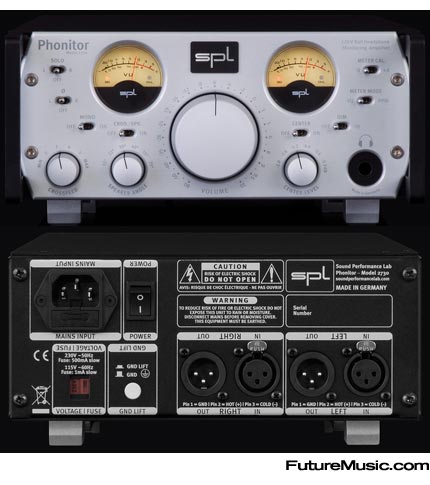 The basis for the Phonitor is SPL's 120 volts reference technology based on handmade operation amplifiers. 120 volts corresponds to approximately four times the performance of standard analog audio semiconductor technologies and twice that of the mot powerful designs. Through such 120 volts circuitry and processing we reach performance levels far beyond conventional designs in dynamic range and distortion levels, and the main technical specifications in music reproduction exceeds all known analogue or digital standards.
Specs:
» Frequency Response: ‹10Hz to ›200kHz (-3dB)
» CMR:-80dBu (@1kHz, 0dBu input level/unity gain)
» Crosstalk @ 1kHz: -67dB
» THD: 0,005% (@ 1kHz and 0dBu input level/unity gain
» Noise (A-weighted): -97dBu
» Dynamic Range: 129,5dB (@ connection with 600 Ohms Impedance)
In addition to its standard monitoring functions the Phonitor offers new controls such as Crossfeed,"Speaker Angle and Center Level. These are the essential parameters that create the width, balance and overall space within a listening field and how we recognize them coming from the loudspeaker. Crossfeed simulates the frequency dependent interaural level differences from both channels. Speaker Angle determines the stereo width caused by frequency dependent interaural time differences. Center Level regulates the balance between phantom center and L/R stereo signals.
SPL's The Phonitor costs €1600 and is available now. More information on the SPL The Phonitor.