Radiohead VS. Prince – The Battle Over "Creep" Coachella Video
Prince, never afraid to alienate his fans, (See: Prince Threatens To Sue Fan Sites & Prince Initiates Lawsuits To Reclaim His Art On The Internet –Ed.) is now sparring with Radiohead over videos of his cover of "Creep" at the most recent Coachella Music Festival.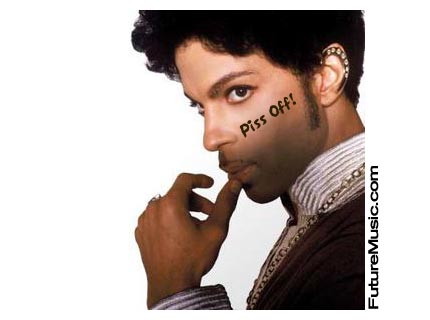 A sloppy video by an audience member was instantly uploaded to YouTube and became quite popular for curious music fans of both artists. However, Prince's Legal sledgehammer came down on YouTube when he insisted they remove the clip due to copyright infringement. The video service obliged, even though it isn't his song.
In fact, all Prince videos of Radiohead's "Creep" were quickly taken down, leaving only a message that his label, NPG Records, had removed the clips, claiming a copyright violation. However, there still remains a question of who really owns the copyright to the video. Thom Yorke, lead singer of Radiohead, stated in interviews that he wants the song to be accessible, and that Prince does not own the copyright.
YouTube prohibits the posting of copyrighted material. If the site receives a complaint from a copyright owner, it will in most cases remove the offending video. Even though Prince doesn't own the copyright, the company is not about to get mired down in a protracted legal battle, and will yank the video.
The dispute was an interesting twist in debates over digital ownership, held between two major acts with differing views on music and the Internet. Radiohead famously released their most recent album, "In Rainbows," as a digital download with optional pricing. They also have a channel on YouTube.
When Prince performed at the Coachella Valley Music and Arts Festival, he prohibited the standard arrangement of allowing photographers to shoot near the stage during the first three songs of his set. Instead, he had a camera crew filming his performance. With his recent actions, it's obvious that Radiohead will not clear him to release "Creep" publicly.