Numark Announces DDS80 Multimedia CD Player
Numark has announced the DDS80, a new CD player for DJ performance that the company claims is "future-proof."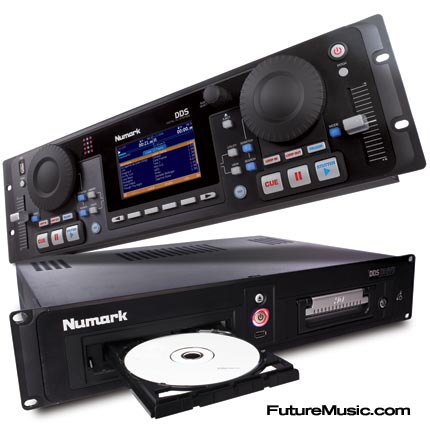 The DDS80 features USB ports for connection of modern media devices such as thumb and hard drives, iPods, MP3 players; and an included 80GB removable/upgradeable hard drive stores a library of music.
DDS80's blend of media with a color screen and Numark's Crate music management software give the mobile DJ solid visual control of their music. Carefully crafted around the way DJs work and play, DDS80 takes the questions out of mixing media formats and puts the answers back in the hands of the DJ.
Features:
» CD player with integrated hard drive
» Large backlit, full-color display
» Key lock for maintaining key (pitch) while shifting tempo
» Seamless looping, pitch control, and scratching capability via jog wheels
» Text search, letter-pick scrolling, and on-board playlist creation
» Three USB ports for connecting iPods, thumb drives, and hard drives
» Enables music to be played from two devices simultaneously, including two songs from the same iPod
» Users can scratch with MP3, WAV, and AAC (unprotected) files
» Pitch control from -100% … +25%
» Beatkeeper technology for integration of samples and loops with tap override
» Searches via two large jog wheels and uses skip peak searching in profiles
» Two front-panel USB ports for easy expansion and connection
» 5RU total, or 3RU + 2RU, fits standard 19-inch equipment racks
The Numark DDS80 will be available Q3-2008 from music and pro audio retailers. No pricing has been announced. More information on the Numark DDS80.