Virsyn Releases Bark – EQ & Compression Plug-In
Virsyn has released Bark, a critical band equalization and compression plug-in for Mac and PC. The multiband filter BARK takes the approach to match the reception characteristic of the final destination of all sound: the ear.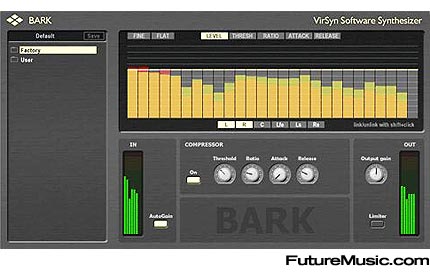 The ear behaves as if it contains a bank of filters, each filter passing frequencies within the critical band. Two tones separated by more than a critical bandwidth are received by the ear independently. For this reason BARK contains a filter bank with 27 bandpass filters matching the critical bandwidth.
In fact, the human ear have also its own built in compression system which are based on the critical bands. Consequently BARK incorporates an independent compression algorithm for each of it's 27 bands.
Features:
» 27 Bark band Equalizer/Compressor
» Linear phase precision filters for maximal transparency
» +24 / -48 dB gain change rate per band
» Minimized latency ( 12 ms )
» Real time pre/post processing spectrum display
» Compression parameters overall and per band
» Surround operation with channel link/unlink – only for AU / RTAS / VST3 versions
Virsyn's Bark costs €99 and is available now. More information on Virsyn Bark.