Sprox Announces New Distribution For Soundog Audio System
Soundog has found a distributor for its unique restaurant/bar audio system. Manufactured by Sprox, the Soundog system consists of a 4-, 6-, or 8-channel transmitter and wireless tabletop speakers. The Soundog speakers allow restaurant and sports bar patrons to hear audio right at their tables from any of the displays stationed around the establishment.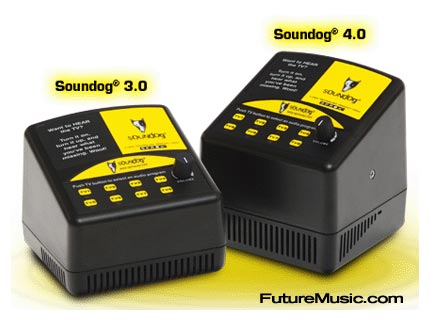 Soundog's wireless audio technology utilizes a long-range frequency that allows the Soundog satellite speakers to tune into any of the televisions in an establishment. This allows customers to hear the audio from up to eight televisions right at their table. While the establishment selects the programming, the customer can control the volume using digital push buttons and an easy on/off volume control on a hand-held unit. 
Soundog claims the digital eight-channel transmitter, which broadcasts sound over a low FM frequency, does not interfere with other wireless devices. Soundog works with any standard or high-definition cable or satellite receiver, including DirecTV or any other audio source. The system runs for a minimum of 16 hours on a single charge, and recharges overnight on a wall-mounted charging station called the DogHouse. (The DogHouse?? Yeeesh! –Ed.)
More information on the Soundog Audio System.