Algoriddim Updates djay To Version 2.1 – Introduces Trackpad Scratching
Algoriddim, a German company, has updated their djay mixing software for Mac OS X to version 2.1. The new version claims to be the first DJing application to feature scratching and mixing using the trackpad built into Mac notebooks. With multi-finger trackpad gestures, users can scratch songs, apply effects, and crossfade just as you would on a real turntable and mixer.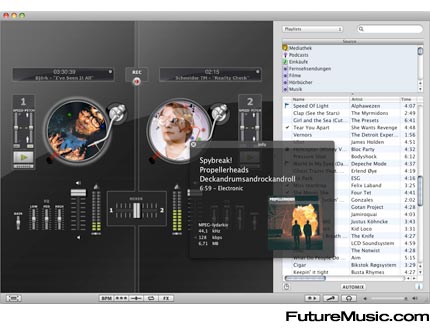 "This is a big breakthrough," says Karim Morsy, CEO of algoriddim. "Our technology recreates the feeling of vinyl records on any Mac notebook, without the requirement for additional hardware. For the first time, intuitive finger motions make it possible for anyone to mix and scratch their music."
A variety of actions can be performed using multi-finger gestures. Sliding two fingers horizontally operates djay's crossfader, perfectly matching the motion used to control traditional mixers. Moving two fingers up and down scratches the record just like on a turntable, perfectly in sync with the hand motion. Even advanced features like scrubbing, pitch-bend, and speed adjustment can be performed using finger gestures in combination with keystrokes.
Features:
» Recording (compressed AAC, or CD-quality AIFF)
» Song History (export as playlist to iTunes or as PDF file)
» Automix
» Collaborative mixing over LAN (Bonjour) network
» Live Undo/Redo
» Over 50 keyboard shortcuts
» Multi-lingual: English, German, French, Japanese
» Built-in help tool
» Scriptable with AppleScript
» Supports all major audio formats: MP3, AAC, AIFF, WAV, Audio-CD, and more
» Supports DRM protected songs from the iTunes Music Store
» Extracts audio from various video formats (DV, QuickTime, and more)
» Drag and Drop support for files stored on external hard drives or memory sticks
» Audio Effects:
— Speed Change (with adjustable slider range +-10% to +-75%)
— Pitch Shifting (+-1 octave)
— Time-Stretching
— Reverb
— Echo
— Reverse Playback
— Pitch-Bend
— Scratching
— Backspinning
— Seeking
— Scrubbing
— Adjustable start/stop latency of turntable (0 – 5 seconds)
» Audio Unit Effects:
— Multiband Compresser, Dynamics Processor, Bandwidth Filters, Low Pass, High Pass, Parametric EQ, and more
» Audio Tools
— Visual needle drop and scratching
— Automatic Transitions: Backspin, Echo, Reverse, Brake or Random
— Looping (savable loop region for each song)
— Cue points (savable for each song)
— Manual BPM tap (savable for each song) and Beat Sync
The two-finger gestures are supported on all Mac notebooks featuring two-finger scrolling, making the feature available to most users with iBook, PowerBook, MacBook or MacBook Pro computers. Users of the MacBook Air and the latest MacBook Pro can use additional three-finger gestures to backspin the record or perform djay's built-in song transitions.
djay can integrates with a iTunes library, allowing the user to mix their digital music collection with its dual-turntable interface. In djay's Automix mode, music can be automatically mixed using DJ-style transitions. Users can perform live, record their mixes, and even send them over the Bonjour network to other connected djays in real-time.
Algoriddim's djay 2.1 is available now for $50 / €40. A demo version is available. More information on djay 2.1.