Trent Reznor Extends Experimentation With Music Models To Touring
Trent Reznor is on a mission to singlehandedly reinvent the music business for the new millennium. FutureMusic has documented his recent online music releases extensively, including giving away his new "The Slip" album, however now the progressive musician has set his sites on the touring industry.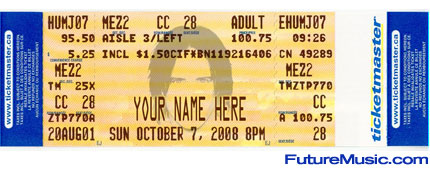 In an attempt to combat scalpers and resellers from hijacking the best tickets to his concerts, Reznor will sell Nine Inch Nails tickets directly to his fans in a special "pre-sale." 72 hours before each show, registered fans will be able to purchase premium tickets via nin.com. The tickets will have the name of the buyer printed directly on the ticket and only be obtained by going to the box office and presenting picture ID.
"premium tickets for all nine inch nails headline dates will be made available to registered nin.com members in advance of public on sales. pre sale tickets are personalize with the buyers legal name printed on the face of the ticket and id will be required for pickup and entry into the venue on night of show. ticket supplies for pre sales are limited and available on a first come, first serve basis. our goal is to put the best tickets in the hands of the fans and not in the hands of ticket scalpers and/or brokers," Reznor states on his website.
The tour kicks off on July 25th in Vancouver, and extends through September 6th in Los Angeles. More dates will be announced. More information on the 2008 NIN Tour.