Dangerous Music Ships DAC ST – Stereo Digital-To-Analog Converter
Dangerous Music is now shipping their DAC ST, a stereo digital-to-analog converter option for their popular Monitor ST controller. The DAC-ST is the first available option in the line for the new Additional Switching System (A.S.S) one-rack space expander which can house up to two banks of two cards each, adding four additional functions switchable directly from the ST-SR remote.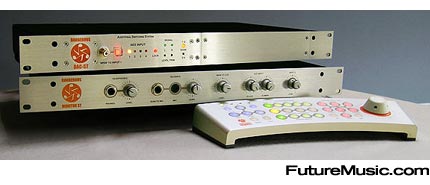 Offering mastering quality on-board stereo D-to-A conversion and digital source switching for Monitor ST, the Dangerous DAC-ST option delivers accurate D-to-A conversion, instantly accessed from the Monitor ST remote control. Integrated digital source switching allows the user to monitor all digital sources through the same converter, which is crucial for critical listening, confidence monitoring and level matching. The DAC-ST takes the guesswork out of any digital monitoring task. Now it's easy to compare a mix to any reference source, without the need to factor in differences in level and sound quality that exist when using several external converters.
All 4 rear-panel digital inputs on the DAC-ST accept AES or SPDIF formats and have active Thru outputs for routing these input signals to other devices. When the user needs to quickly hook up external units such as beat-boxes or keyboards that have an SPDIF output, the front panel dedicated SPDIF input saves crawling behind a rack with a flashlight. Being a truly professional system, DAC-ST can be calibrated to match your chosen studio reference level.
The Additional Switching System is sold as a chassis/power supply set with one or two user-selected options, each option having a specific price. Users can purchase a single option along with a chassis, then purchase a second option later and self-install that card; or purchase a chassis with two options already installed. Several other options are in the works including the "DAC-SR," a 6-channel DAC for surround setups, and a companion to the Monitor SR expansion.
Monitor ST-SR
The Monitor ST-SR focuses on solving monitoring problems associated with DAW-based recording and mixing in studio environments not employing a traditional console. The Monitor ST is a remote-control based input source and speaker switcher with integrated cue and talkback systems, including an onboard headphone power amplifier- all in one rack space. The Monitor SR is a companion one-rack space expansion module providing full 5.1 surround monitoring capability. Studios working in stereo can start with the ST and later expand to surround by adding the SR unit with no equipment redundancy or obsolescence. With the cat-5 connected remote control unit, included with the Monitor ST, engineers can configure and control an entire system from the comfort of the studio's sweet spot.
Dangerous Music's DAC-ST costs $1199 / €925, and includes the integrated power supply unit and expansion chassis with an extra space for a second user-installable option. The Dangerous Monitor ST is $2199 / €1850; and the Dangerous Monitor SR expander will set you back $1499 / €1350. More information on Dangerous Music.