Microsonic Launches Music Division, Announces Epic Earphone Monitors
Microsonic, Inc., a longtime manufacturer of hearing aids and associated products, has launched a new division, Microsonic Music, which will be dedicated to creating personal monitors for musicians and the music industry.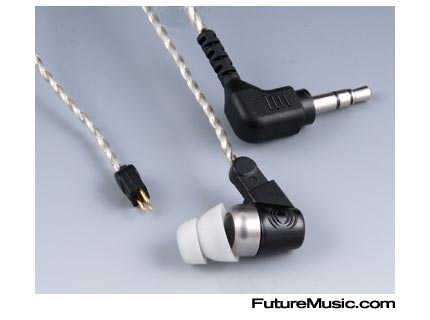 Founded in 1964, Microsonic has experience in many parts of its marketplace from its years as a full service custom hearing product laboratory. This includes work as a consultant and designer for products for military, industrial, health care and professional audio applications. According to the company, then, a natural extension of Microsonic's expertise is the birth of Microsonic Music to offer a line of products which it believes will combine "the latest in broadband drivers that have emerged from the hearing aid industry with sophisticated circuitry and precision molded ear sleeves for a perfect fit and the ultimate listening experience."
The company's first product will be the Epic line of personal monitors. All Microsonic Music products are designed and built in the USA at its new research and manufacturing facility outside Pittsburg, PA. The company has appointed Sonic Distribution LLC for distribution in North America.
Epic Features:
» Swiveling Nozzle: EPIC Universal monitors have a custom feel even though they fit any ear size or ear type. This is achieved through Microsonic Music's patent-pending swiveling nozzle in conjunction with an extremely comfortable flanged ear tip. No other manufacturer's fit compares.
» Sound Isolation: Not only do EPIC monitors provide unsurpassed comfort, they also provide up to 25 decibels of sound attenuation, permitting the wearer to block out unwanted noise for exceptional performance. This heavy isolation also helps to protect your hearing, and to enjoy the incredible sound clarity that EPIC monitors provide.
» Single Balanced Armature Technology: EPIC monitors use balanced armature transducers, making the sound crisp, clear and undistorted, for an extremely pure listening experience. You will likely want to just throw away your old earbuds and headphones once you have heard what EPIC balanced technology can offer.
» Ear Tips: Hypo-allergenic ear tips are attached to the monitors to provide a comfortable fit in your ears. A set of standard size tips comes installed on the monitors, and a set of extra large EPIC monitors includes four extra dampers and a tool for damper replacement.
» Frequency Response: 20Hz – 16kHz
» Impedance: 10 ohms at 1kHz
» Sensitivity: 104 dB at 1kHz
More information on Microsonic Music.