Blue Cat Upgrades Triple EQ Series To Version 3.0
Blue Cat Audio has released a new version of their Triple EQ series, a set of three hybrid parametric EQ / shapeable filters plug-ins. The 3.0 upgrade brings a new user interface design and many new features and enhancements. Blue Cat also announced that it is reducing the prices of its entire catalog.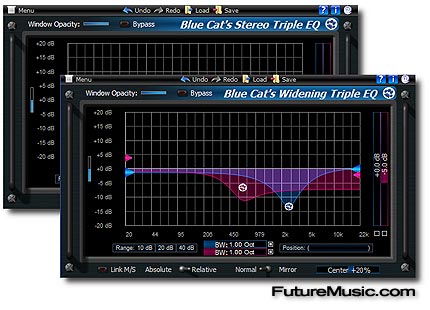 Enhancements:
• New GUI design
• Skinning language 1.4.3 support:
— Streamlined user interface with simplified controls for optimal workflow
— Zooming: adjust the dB range of the EQ and the response curve graph
— Frequency response measurement: new mouse coordinates display
— Window Opacity Management: make the plugin window transparent
— New toolbar to access the main functionality
• Smooth bypass: activate/deactivate the plug-in with absolutely no noise
• Undo/Redo
• Import/Export presets in a host independent format: you can now share presets between the directX and VST versions
• Enlarged the filters frequency range.
• Performance & memory consumption improvements
The new TripleEQ 3.0 plugin is now free, and the Stereo and Widening versions are available for a special introduction price, separately or within the TripleEQ Pack bundle. Demo versions are also available.
Blue Cat's Triple EQ Series 3.0 is available now. TripleEQ is free; Triple EQ Pack is $55.66 / €39.20; Triple EQ costs $35 / €24.65; Widening Triple EQ will set you back $47.07 / €33.15. More information on Blue Cat Triple EQ Series 3.0.