iZotope Releases RX – Audio Restoration Software
iZotope has released iZotope RX, a set of audio restoration plug-ins for Mac and PC. RX features tools for cleaning and restoring audio.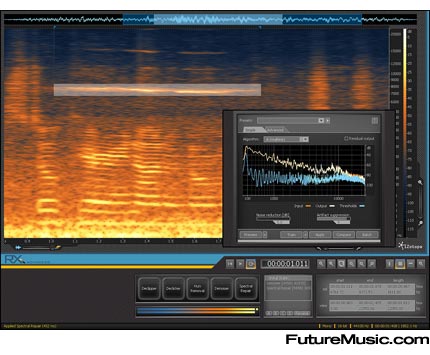 Features:
• a complete standalone application designed for audio restoration
• suppress broadband and tonal noise without the harsh artifacts of other solutions
• remove intermittent noises, corrupted intervals and gaps with Spectral Repair re-synthesis
• eliminate overload distortion by automatically rebuilding clipped sections of audio
• clean up hum and buzz caused by poor wiring and other electrical problems
• remove impulse noises like clicks, crackles and pops, digital artifacts and more
• see more detail with innovative metering and the most advanced spectrogram display available
• select by time and frequency to isolate and repair noise with surgical precision
• save time by processing multiple settings in parallel, and revert to earlier settings with an undo history view
Featuring newly developed technology created by iZotope, RX removes hiss and buzz, eliminates clicks and crackles, and repairs overload distortion in audio. New intelligent Spectral Repair algorithms can even analyze and fill gaps in audio files to restore previously unusable recordings.
Ideal for any application that demands spotless audio, RX key features include Denoiser, Declipper, Hum Removal, Declicker, Spectral Repair, Advanced Spectrogram and a streamlined interface and workflow.
The Advanced version of RX has also been updated to include plug-ins. iZotope RX Advanced allows even more precise control over RX algorithms and multi-resolution processing modes.
iZotope RX is distributed worldwide by M-Audio, and is also available online from iZotope. The RX plug-ins and standalone application for Pro Tools 7 (RTAS/AudioSuite), VST, MAS, Audio Unit, and DirectX are included together for $349. $1199 for RX Advanced. All current RX customers and customers buying RX boxed versions are eligible for a free download of the plug-ins, a 10 day fully functional trial of RX is also available. More information on iZotope RX.