De la Mancha Premiers Unstable
de la Mancha has premiered unstable, a VST effect plug-in for Windows that modulates audio pitch with 3 pitch modes to simulate the unpredictable, but lovable, pitch instability of an old tape machine or analog gear.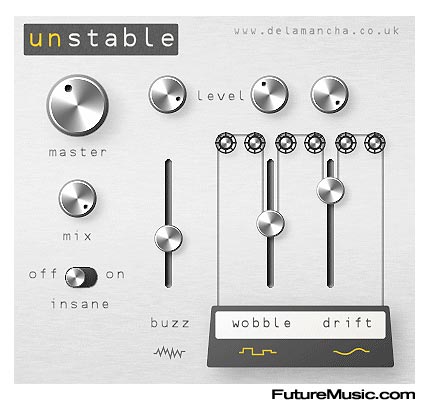 Features:
• 3 modes of continuously random pitch modulation:
— Buzz – rapid, fuzzy modulation
— Wobble – medium, jerky modulation
— Drift – slow, gentle modulation
• Adjustable frequency and level for each modulation mode
• Master level mode to adjust overall subtlety of effect
• Wet / dry mix level control
• Insane mode – removes all subtlety and smacks your pitch up
• All controls mapped to MIDI CC values
de la mancha's unstable costs $8, and is available now. More information on de la mancha unstable.