de la Mancha Releases Machin – Free VST Plug-In For Windows
de la Mancha has released machin, a random, probability-based, step-sequenced multi-fx VST plug-in for Windows. Machin was co-developed by de la Mancha and France's sink music, after their initial collaboration on TRUC. It appears to be a match made in tweakers heaven since both these nutty concerns seem to have an affinity for plug-in weirdness.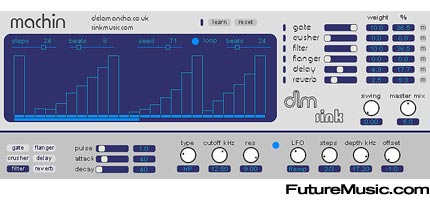 Machin is hard to explain, since the documentation is rather sparse, but here's what we can tell you. The internal step sequencer defines the probability that any single random effect will be triggered on that step, and "Weighting" defines the probability for each effect that it will be the one that is triggered. Crystal clear, right?
Features:
• 6 effects (gate, crusher, filter, flanger, delay, reverb)
• 2-32 step probability sequencer over a cycle of 2-32 beats
• Seeded randomisation with loop repeat over cycle of 2-100 beats
• Swing control for step sequencer
• Any effects can be turned off to save CPU
• Each effect has an attack/decay on triggering and pulse length to determine duration effect is on
• Master wet/dry mix control
• All controls have MIDI learn
de la Mancha & Sink's machin is free and is available as a VST effect plug-in for Windows. More information on machin.