Weekend Fun: Hammacher Schlemmer Monocycle
From The How To Kill Yourself In 60 Seconds File
The folks at Hammacher Schlemmer are now selling a motorized Monocycle for a mere 13 large. According to Hammacher, this monocycle can travel up to 25 mph and is powered by a 31cc, four-stroke, 1.5 HP engine. Based on an original design conceived in Marseilles, France in 1869, this modern version's wheel is engaged by using a centrifugal clutch on its inner steel frame to propel the larger 67″ diam. outer rubber flywheel.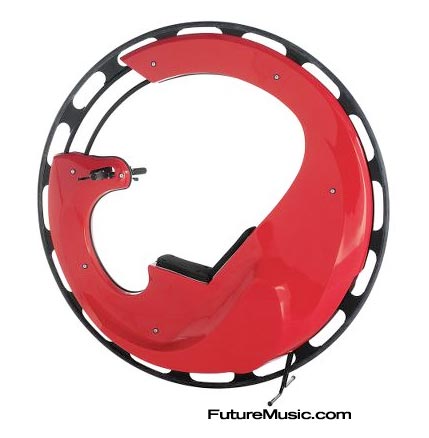 The monocycle is steered by leaning to one side or the other, and it can negotiate any solid surface such as pavement or dirt. A fiberglass frame encloses the engine, drive train, and fuel tank, and provides a cushioned seat and convenient footrests for riders up to 6′ 3″ high when in a sitting position. However, since the monocycle is a hard tail — no suspension — you may want to stick to soft grass.
The hand-holds have a finger throttle that provides progressive acceleration and a brake that provides confident stops for riders up to 275 lbs. (minimum weight of 110 lbs. suggested for proper counterbalance during acceleration and braking). It can run for up to two hours on less than a 1/2-gallon of gasoline. 67″ diam. x 14″ W. (110 lbs.)
Hammacher notes that this monocycle is not street legal, so you'll have to cause bodily harm on your own property.
The Hammacher Schlemmer Monocycle will set you back $13,000. More information on the Hammacher Schlemmer Monocycle.