HHB Premiers CDR-882 DualBurn CD Recorder
HHB recently premiered its CDR-882 DualBurn, a professional audio CD recorder with many advanced features. The HHB CDR-882 DualBurn is compatible with all types of CD-R media, both low and high-speed up to 52X, including HHB's own new CDR80HS 2X-52X disc. With the REC-REC drive configuration, the CDR-882 resolves the inherent limitations of previous generation CD recorders by supporting seamless extended recording time across two or more discs, as well as simultaneous recording of two discs, high-speed duplication and intelligent disc management.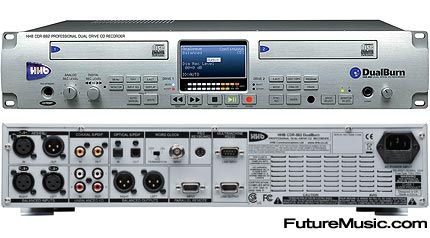 The CDR-882 features 24-bit A/D and D/A converters with noise-shaped dither onto CD combined with a high-quality quartz crystal-derived internal clock and analog circuitry to deliver superior sonic performance. Unlike adapted consumer devices, the CDR-882 uses high-quality IDE CD-R drives mounted in a solid steel 2U rack-mounting chassis to ensure reliable, glitch-free recording, even in unfavorable environments such as live concerts. Comprehensive professional connectivity includes balanced XLR analogue I/O, unbalanced phono analogue I/O, balanced XLR AES/EBU digital I/O, coaxial and optical S/PDIF digital I/O, external word clock input, RS232 remote control and parallel control interface. An on-board sample rate converter accepts digital signals from 32-96kHz, and the CDR-882 ships with an infra-red remote control.
Features:
• Genuine dual REC-REC drive configuration supporting seamless extended recording time across 2 or more discs, simultaneous recording of 2 discs, and high speed duplication
• High-quality IDE CD-R drives deliver low error recording
• Robust, heavy-duty construction ensures reliable CD recording, even in unfavorable environments
• Supports all CD-R media
• Balanced and unbalanced analog I/O
• AES/EBU and S/PDIF (coax and optical) digital I/O
• Full 24-bit A/D and D/A conversion with noiseshaped dither onto CD
• Stable, quartz crystal-derived internal clock
• Internal SRC accepts digital inputs from 32-96kHz
• External word clock input
• RS232 remote control
• Parallel control interface
• Infra-red remote control
• Gapless track increments
• High-resolution metering
• CD-Text support
A full complement of professional features equips the CDR-882 for a wide variety of tasks. Track IDs may be manually created, or auto-generated from the digital input, audio level threshold or time period, both of which are user-definable. When recording seamlessly across two or more discs, track IDs are inserted when the next disc starts, and where the user-definable fade out and fade in start and finish. With an overlap between the two discs, the whole program can either be played back uninterrupted in the CDR-882, or easily reconstructed in a DAW using the track IDs to precisely align the audio from the two or more discs. The CDR-882 supports CD Text, and makes its own use of it to identify multi-disc recordings and the correct order.
The versatility of the CDR-882 is enhanced further by the inclusion of Sync Record and Disc Copy modes, a Program mode to enable selective track record/replay, and Single/Clone modes to select recording to one or both drives.
HHB's CDR-882 will cost $1,149 and be available in April. More information on the HHB CDR-882.