Demon Doll Head Theremin
XLPC Theremin has just released the sequel to their Doll Head Theremin, a large photo-cell (LPC) theremin housed in a doll's head. Why put a theremin inside a doll's head? We don't know either, but XLPC has even gone so far as to insert bright red LEDs into the Doll's eyes. And you thought Chucky was creepy…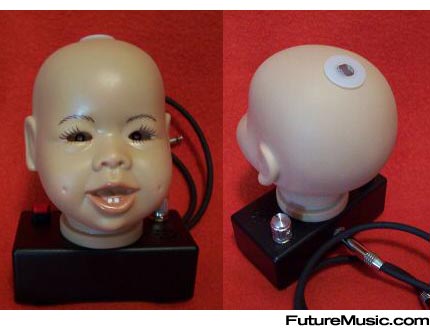 XLPC's new and improved Doll Head Theremin has an increased dynamic range and an on/off switch to activate the red LED eyes. The photo cell on top of the theremin reacts to light in its environment and works particularly well with flash lights and laser pens.
Features:
• Small 8 ohm Speaker
• On/Off Switch for Satanic Red LED eyes
• Silver Pitch Volume Knob
• Large Photo-Cell
• 1/4″ Output Jack for connection to an Amp
• 1 C Battery Required
The XLPC Demon Doll Head Theremin costs $69.95 and is available via eBay. More information on the Demon Doll Head Theremin.