Steinberg Unleashes CC121 Advanced Integration USB Controller
Steinberg previewed their new CC121 Advanced Integration Controller at MusikMesse today. Offering dedicated quality hardware controllers and an innovative and flexible new controller concept, CC121 provides full Cubase 4 integration and control.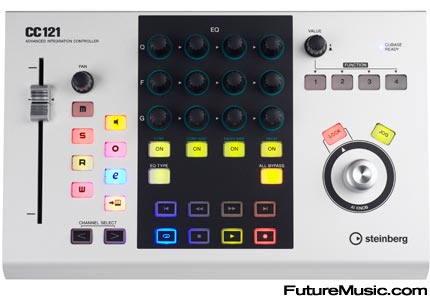 Features:
• Precision Advanced Integration controller knob with 'point and control' support: controls any visual Cubase 4 parameter, internal FX setting or VSTi parameter using mouse pointer selection
• Instant plug and play with 'Cubase Ready' LED – no additional setup or parameter assigning required
• One motorized 100mm touch-sensitive fader
• Dedicated control of Cubase channel settings including solo/mute, record arm, 'e' settings button, automation read/write, pan and VSTi editor
• Full Cubase EQ section in hardware with 12 dedicated rotary encoders, with mode selection and bypass switches
• User-assignable section with Cubase-integrated presets for Control Room studio sends and monitoring setup.
Steinberg's CC121 will support Windows XP Windows Vista and Mac OS X, and should bow this Fall. No pricing has been announced. More information on Steinberg CC121 USB Controller.