ImageLine Delivers Toxic Biohazard Soft Synth For Mac & PC
ImageLine has delivered Toxic Biohazard, the 4th generation in the line of Toxic synthesizers for Mac and PC. Toxic Biohazard incorporates the best features from the previous 3 versions, as well as suggestions from users.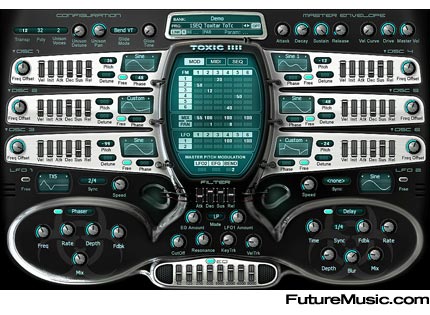 Toxic Biohazard features a hybrid synthesis engine, combining the best of FM and Subtractive synthesis. With the addition of a warm, analog-modeled filter and set of built-in effects, the Toxic concept remains one of convenience, simplicity, and sound quality.
Enhancements:
• Optimized engine.
• Improved the sound quality, with even more accurate waveshapes, and quicker rendering times.
• Physycal envelopes (amplitude and filter) physical modelling of how sounds in real world decay & resonate, for example, the sound of a water drop. Further, physycal envelopes are rendered real-time without any interpolation, avoiding noise artifacts and allowing Toxic Bio to deliver fast, accurate envelope times.
• Pack of new effects
ImageLine's Toxic Biohazard costs $99. Biohazard is available for free to all current Toxic users. More information on ImageLine Toxic Biohazard.