Antares Unleashes Voice Thing! For Windows
Antares Audio Technologies has released Voice Thing!, a PC application for changing voices in real time. Designed for online gaming, voice chat, VoIP, and video and podcast production, Voice Thing! can change a person's voice in an almost limitless variety of ways.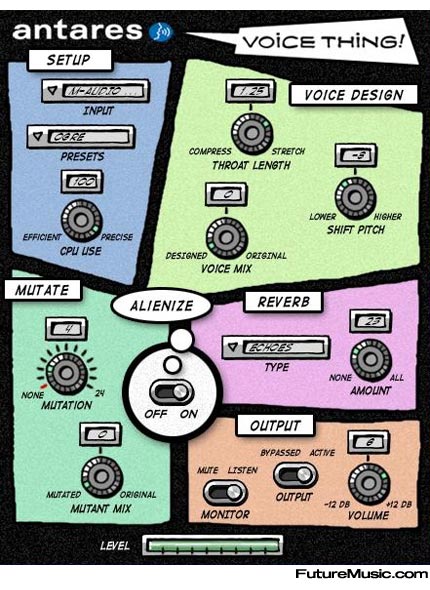 Based on technology developed for Antares pro audio voice processing applications, Voice Thing! requires only a microphone and any PC application that accepts audio input. Voice Thing! lets anyone subtly or radically change the character of their voice, turn their (audio) self into a monster or alien, or create the effect of being in a wide variety of sonic environments, fromsmall rooms to huge halls.
With fun and ease-of-use as top priorities, Voice Thing! features a playful user interface that puts the power of Antares's advanced voice processing technology in the hands of any PC user.
Features:
• Change voices with the same high-quality voice processing used in Antares's professional audio tools
• Raise or lower voices with high quality pitch-shifting
• Radically change the quality and/or gender of voice with Antares's unique vocal tract modeling technology
• Use the Mutation function to create a huge variety of monstrous, demonic, or other alternate-species voices
• Simulate a variety of environments, from a huge hall to a small room
• Choose from an extensive collection of included human, creature, and just plain weird voices
Antares' Voice Thing! is available now for Windows XP and Vista, and costs $34.95. More information on Antares Voice Thing!