Toshiba Officially Announces HD DVD's Death
Toshiba announced that it "will no longer develop, manufacture and market HD DVD players and recorders." The announcement was no surprise to industry watchers who witnessed one major content player after another pulling the plug on the format. Toshiba will continue to provide full product support and after-sales service for all owners of Toshiba HD DVD products. Sony will get a major boost from Toshiba reading HD DVD's death certificate aloud, and should help the PlayStation 3 make additional gains in the market. Microsoft, who utilizes the HD DVD format in their XBox 360, plans to shift to Blu-ray in the coming months.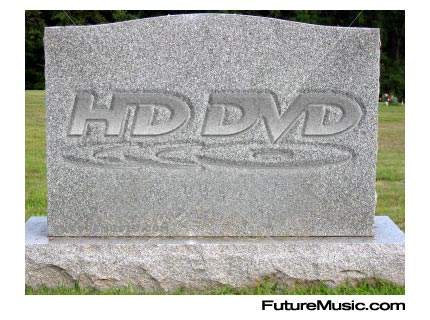 "We carefully assessed the long-term impact of continuing the so-called 'next-generation format war' and concluded that a swift decision will best help the market develop," said Atsutoshi Nishida, President and CEO of Toshiba Corporation. "While we are disappointed for the company and more importantly, for the consumer, the real mass market opportunity for high definition content remains untapped and Toshiba is both able and determined to use our talent, technology and intellectual property to make digital convergence a reality."
Toshiba will begin to reduce shipments of HD DVD players and recorders to retail channels immediately.