Melt! Announces 2008 Festival Dates With Björk, Franz Ferdinand
Melt!, the German music festival that takes place inside a mine in Ferropolis, has announced dates for the 2008 three day event — July 18-20th. Melt! – a unique music festival on the Ferropolis peninsula surrounded by Lake Gremmin – will be a fusion of techno beats, guitar chords, and hip hop breaks with headlining performances from Björk, Franz Ferdinand and the Editors.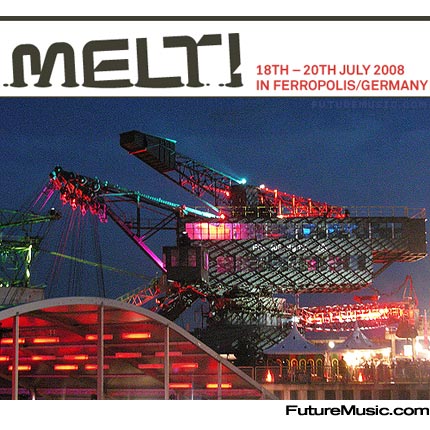 2008 will be the 11th edition of the festival and due to great demand a third day has been added to the program.  More than 80 live acts and DJs will perform on 6 stages, firing the crowd up from late afternoon until well into the wee small hours…. and the last beats don't fade until long after the sun has risen over the lake again.
Melt! has established itself on the European festival landscape and is an unforgettable musical experience that transcends all genres. The festival was also voted most popular open air event by readers of top German music and style magazines Intro, Groove and De:Bug.
CONFIRMED ACTS:
Björk //  Franz Ferdinand // Editors // Ben Folds // The Gossip // Turbostaat // Booka Shade // Alter Ego // Miss Kittin & The Hacker (live) // Boys Noize // Moonbootica // Efdemin // Len Faki // The Teenagers // Die Türen // Kompakt label special: Supermayer (live) // Burger/Voigt (live) // Gui Boratto // Tobias Thomas // Bpitch label special: Modeselektor (live) // Ellen Allien // Sascha Funke // Tomas Andersson Man Recordings: Crookers // Daniel Haaksman u.v.a.
Due to the great demand Melt! have decided to add a third day to the festival. It will now end on Sunday, 20th July 2008 at approximately 11 p.m. after Björk's performance. The new Melt! Sunday has a limited capacity of 12,000 visitors and is also available as a separate ticket. We therefore recommend that visitors choose one of the three ticket categories on offer early on. We will be announcing the rest of Sunday's programme soon and on Friday and Saturday, Melt! will take place in its usual form, spread across six stages and with a capacity of up to 20,000 visitors.
Details:
Doors Open: 3 pm every day
First Acts On Stage:Â  5 pm every day
Tickets are on sale now:
1-day ticket Björk + 4 more acts tba (Sun 20th July 2008): €45 (plus booking fee)
2-day ticket (Fri 18th & Sat 19th July 2008 + free Sleepless Floor on Sunday 20th July 2008): €65 (plus booking fee)
3-day ticket (Fri 18th & Sat 19th & Sun 20th July 2008): €85 (plus booking fee)
More information on Melt! 2008.