Samsung And B&O Team For F400 Music Phone
Samsung has teamed with B&O to create the F400 a 3G mobile for the European market. Cell phones with speakers have come up severely wanting in the past, so Samsung decided to solicit the help of the B&O engineering department to develop a compact speaker with punch.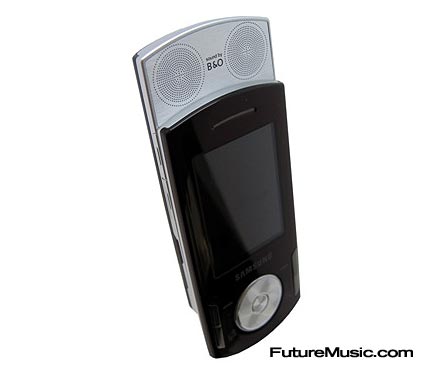 The F400 slides in two directions. Sliding one way reveals two miniature speakers sandwiching the B&O brand, sliding the other gives the user access to the phone's main controls. We can't see how the two speakers could deliver true stereo sound since they're so close together, but having two definitely bumps up the output, which was a main concern for Samsung.
Other features include a RDS-enabled FM radio, TFT 2.2-inch QVGA display, 3 Megapixel camera with autofocus, and a microSD memory card slot.
The Samsung F400 will be available sometime this spring for €399. More information on the Samsung F400.