Reloop Unveils Digital Jockey: Interface Edition – DJ MIDI Controller / USB Audio-Interface
Reloop has announced a new DJ MIDI Controller dubbed the Digital Jockey. The new controller is a fully assignable MIDI device with the ability to send up to 69 MIDI parameters via buttons, faders, encoders, push-rotaries, and two high-resolution jog wheels. The console contains the classic 2-channel layout, with quality faders and backlit control buttons. The Digital Jockey is easily connected and powered via USB.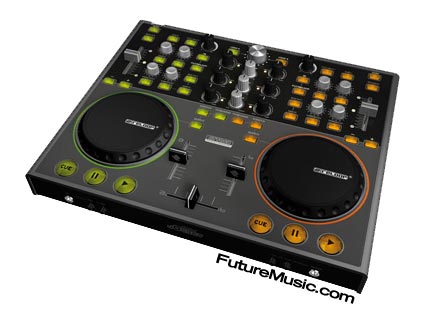 The Interface Edition features a high grade 4-channel 16 bit/48 kHz USB audio-interface. With that, the Reloop Digital Jockey can be directly connected to the PA, headphones and microphone. And another line source like CD Player or turntable may be integrated into the setup, as well. In the course of conceptualizing the Digital Jockey, Reloop developed Attack, a professional mixing software that works specifically with the controller. The Digital Jockey is not only supplied with Reloop Attack, but also includes Native Instruments Traktor 3 LE. Both are especially pre-mapped for the Digital Jockey.
Features:
• Integrated 4-channel 16 bit/48 kHz USB audio-interface
• Stereo RCA input and output, 6.3 mm jacks for headphones & mic
• Flexible channel routing for integration of a CD player or a turntable
• ASIO drivers for lowest latency and best audio quality
• Supplied with Reloop Attack and Native Instruments Traktor 3 LE
• 69 MIDI-controllers (42 buttons, 5 faders, 9 encoders, 6 push-rotaries, 5 rotaries, 2 jog wheels)
• All MIDI-controllers can be edited and freely assigned
• USB bus powered: power supply possible via USB
• Anti-theft system: Kensington security slot
• Mac OSX and Windows XP/Vista compatible
• Classic 2-channel layout
• 1 PRO longlife crossfader
• 2 volume controls with PRO longlife linefaders
• 2 three-band equalizers with Push2Kill knobs
• 2 gain control knobs
• 2 large, high resolution jog wheels for scratching, effect modulation, etc.
• 2 PRO longlife pitchfaders
• 4 assignable encoders and 4 buttons for effect and sample control
• 42 backlit buttons for all playback operations
• large Trax encoder for fast and easy browsing through the music library
• Dimensions: 370 x 38 x 295 mm
• Includes 2 control overlays adapted for Reloop Attack and Traktor 3 LE, power supply and USB cable
More information on Reloop Digital Jockey.