ManyTone Releases ManyBass – Bass Guitar Synth For Mac & PC
ManyTone has released ManyBass, a bass guitar sample based synthesizer for Mac and PC. ManyBass comes with a large collection of bass guitar samples, an efficient sample playback engine, and an effects rack.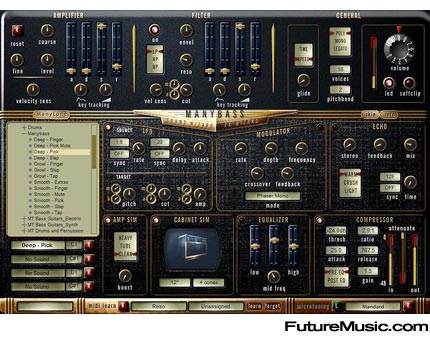 ManyBass contains 2.4 GB of 24 bit, electric bass guitar multi-samples that cover various articulations and playing styles of the real instrument. The engine and onboard Amp Sims and FX were designed and tuned for bass type sounds, including the playback of real bass guitar instrument samples. The included Presets, along with the Sound and FX Wizards, will have you creating realistic sounding bass guitar tracks in no time at all. Along with the included electric bass guitar samplesets, ManyBass also comes with a selection of Waveforms that are capable of producing synth bass type sounds as well as other synthetic instrument sounds.
ManyBass will allow you to load up to 4 different articulations of an instrument and switch between these articulations using simple Keyswitching or Midi cc. The 2.4 gig of bass samples included were all recorded from the same bass guitar, and then mapped into 13 individual soundsets. This keyswitching feature allows the user to load up to 4 of the soundsets and easily switch between them using a Midi note, or a button on your keyboard controller. All this is accomplished on a single page, in an easy to use, graphical user interface.
ManyTone's ManyBass is available now for $139.95 in the VSTi and AU and VSTi flavors for both Mac and PC. ManyBass is also available in a Big Bass Bundle which includes the ManyBass Instrument and our 3 add-on Bass Products: Ultimate Bass Kit, The ManyTone Upright Bass and the ManyTone Acoustic-Electric Bass. This Bundle is available for $199.95. More information on ManyTone ManyBass.