Abbey Road Plug-ins Releases TG12413 Limiter
Abbey Road Plug-ins has released the TG12413 Limiter, an emulation of the compressor / limiter from the legendary EMI TG12345 mixing console for Mac and PC. Two plug-in modules are included, providing variations on the TG sound: the '1969' module is modelled on the original from the TG12345 console and the '2005' module is based on Chandler Limited's TG1 compressor / limiter.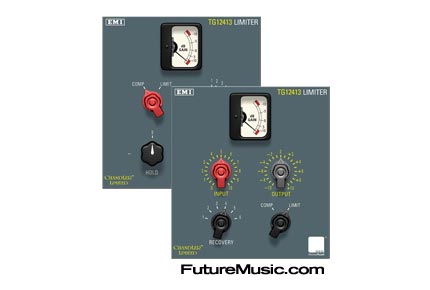 The TG12413 was used on many classic recordings such as The Beatles' Abbey Road and Pink Floyd's Dark Side of the Moon. The TG12345 consoles were never sold commercially and were only available to EMI studios. The plug-in functions as a 2:1 compressor or as a limiter with up to 20dB of gain reduction. It accurately reproduces the behavior of the original and features an authentic, TG-style graphical interface. In addition, it can be used in multi-channel configurations, supporting up to 7.1 surround operation.
Features:
• Classic and contemporary modules
• Compressor and limiter modes from the original hardware
• TG-style controls and gain reduction meter
• Mono, stereo and multi-channel operation
• Automation and control surface support
The Abbey Road Plug-ins' TG12413 Limiter costs $335 and is available for Mac OS X and Windows in VST, AU, RTAS and TDM flavors. More information on the Abbey Road Plug-ins TG12413 Limiter.