Numark Showcases NS7 DJ Control System
Numark has announced the NS7 DJ control system. Similar to Stanton's SC System, the NS7 comes pre-configured to control the software of your choice, including Serato Itch and Numark's own CUE DJ software.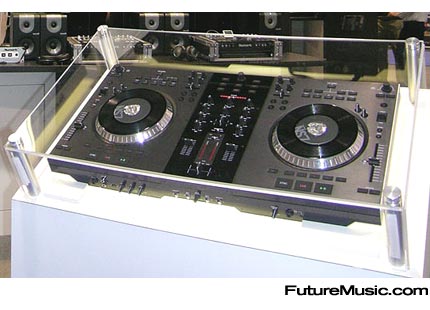 Two high-torque, motorized 7″ standard platters with a genuine vinyl interface provide tactile response with the look and feel of standard turntables. Illuminated easy-to-find controls help you to perform in any lighting conditions, and loads of additional assignable MIDI controllers provide software compatibility and user customizations.
Features:
• Adjustable high-torque, direct-drive motors with 7″ Vinyl
• 2-in, 4-out. 24-bit USB 2.0 audio Interface
• High speed, double precision MIDI controls (Compatible with any MIDI software)
• CP-PRO crossfader
• All metal construction
• Looping, Cue Point and Track Selection controls
• Additional assignable controls include 8 rotary, 8 triggers and 2 mini sliders
• Audiophile-quality analog circuitry
• Audio Inputs:
— RCA (unbalanced) line
— Mic (1/4″ balanced)
• Audio Outputs:
— Master – XLR (balanced)/RCA (unbalanced)
— Booth – RCA (unbalanced)
— Headphone – 1/4″ and 1/8″ stereo
The NS7 sends MIDI over USB at two to three times normal speed, at an extremely high resolution for the most accurate and precise software control available, while remaining 100% MIDI compliant. Custom controls are included for navigating your library without need for a mouse or keyboard. The NS7 uses high performance USB 2.0 that delivers 24-bit audio. XLR (balanced) and RCA (unbalanced) connections are ideal for the pro and semi-pro alike.
Along with the NS7 news, was a formal announcement regarding the Numark and Serato courtship, which appears to be blossoming. The communication stated that the NS7 is just the beginning and the companies plan to work more closely together. This must have taken the wind out of Stanton's sails, who were feeling pretty proud of themselves for unleashing a very similar product, but didn't get the strategic-partner reach-around that Serato is providing. Good think Stanton didn't formally release pricing information on their SC system, they're going to need to undercut Numark's action to stay in the game.
Numark stuck this puppy under the proverbial glass case, so we didn't get our grubby hands on it, but it's bigger than its portrayed in the pictures…
No pricing or availability has been announced. More information on Numark's NS7.