Denon Showcases DN-HS5500 Digital Turntable At NAMM
Denon DJ is showcasing its new DN-HS5500 Direct Drive Turntable Media Player and Controller at NAMM. The DN-HS5500 is a spinning turntable-style MIDI Controller with Sound Card that gives users the advanced capability of controlling various DJ MAC/PC application software. Denon claims the DN-HS5500 acts like two independent digital turntables in one unit by offering dual deck-like operation, with separate audio outputs from decks 1 and 2.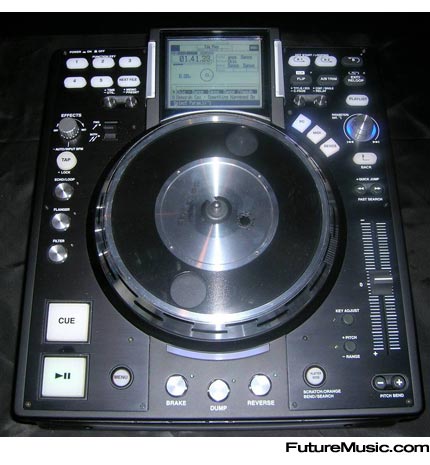 The DN-HS5500's noteworthy feature is that it literally doubles the capabilities and creative options of a single-deck unit by offering DJs a single component solution, with the power to easily operate decks #1 and #2 simultaneously with the flip of a button. Each of the DN-HS5500s two decks provides full access to all available features as well as all connected outboard devices and music library. The DN-HS5500 can also be employed as a MIDI controller. Each of the DN-HS5500s "two" decks can control two virtual players in the leading DJ mixing software.
Another feature of the DN-HS5500 is its Modular HDD/CD Option that allows a DJ to select one of two different audio storage options: Denon optional (BU5501) Slim-type CD-ROM drive or a standard PATA-type 2.5″ Hard Drive as the internal source playback. Built-in USB Audio Internal 24-Bit Processing adds to the advanced performance capabilities of the DN-HS5500, which encompasses its own sound card. In addition to its ability to interface and control external Hard drives, iPods and other connected music devices, it offers an extensive palette of special effects and features. Most notably, DJs have access to three separate platter effects, including Brake (adjustable in real time), Dump (reverse sound without losing true forward time, like a radio edit), and Reverse, which plays your music backwards as the platter spins backwards. In addition, DJs have access to 5 built-in DSP effects, making it easy to build the mood on the dance floor. DJs can easily activate and have access to full parameter adjustments with a unique Dry/Wet mix control of the effects, including Flanger, Filter (High-Mid-Low), Echo, Tail Echo and amazing Echo Loop.
Another useful function is Denon DJs Mirror Mix feature, which is like having two copies of the same track while juggling the mixers crossfader back and forth with the other track being slightly delayed. Delays are adjustable from 1/8, 1/4, 1/2. 1/1, and 2/1. In addition, the unit's Play List Creation and Hot List: function lets you create, edit and save up to 3 different types of Playlist categories. Other features include an advanced support for three types of keyboard, Intuitive File Navigation, Pitch Range and Deep Pitch Resolution and more.
The Denon DN-HS5500 is expected to be available in early February for $1,299.99. More information on the Denon DN-HS5500.