Roland Revamps Fantom Line With New G8, G7 & G6 Workstations
The rumblings were correct, Roland unveiled a revamped Fantom workstation lineup featuring the G8, G7 and G6. The G8 is easily one of the most powerful workstations to date with 128 tracks, including 24 audio tracks, in a fully intergraded audio/MIDI graphical environment. Front and center is the extra-large 8.5" wide TFT color LCD (800 x 480) for enhanced productivity. A first-class assortment of handson controls is provided as well, including eight sliders, four knobs, and ten buttons below the LCD.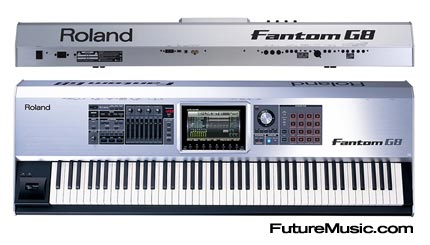 Driven by a powerful new audio engine, the Fantom-G provides new sonic depth and versatility. With twice the wave-ROM capacity of its predecessor, it contains dozens of Roland's SRX-quality sounds, but what really sets this instrument apart is its new ARX expansion, which allows additional SuperNATURAL sound-sets and fully dedicated synth and effects engines to be added to this already powerful live workstation.
Fantom-G provides ARX slots that accommodate two SuperNATURAL expansion boards. SuperNATURAL is Roland's behavior-modeling technology that enables a new level of organic, emotional expression. Applied to traditional-instrument sounds, SuperNATURAL enables the delicate, organic tonal changes and playing nuances of real musical instruments. It's also a powerful tool for electronic and non-traditional sounds, breathing amazing new life and expression into synthesis.
The Fantom-G is the first Roland instrument to feature Roland's newly designed power sequencer. In conjunction with the large-size LCD, this pro-level composition tool provides 128 tracks (including 24 audio tracks) in a fully intergraded audio/MIDI graphical environment. A mouse can be also incorporated for computer-like speed and ease. Other convenient features include combo XLR and TRS connectors, phantom power for condenser mics, Hi-Z input for guitar and bass, and line input.
Fantom-G is loaded with a powerful effects engine, with multi-effects available for each Fantom-G sound/part. In 16-part multi-timbre mode, up to 22 effect routings can be used simultaneously. Create complex setups with 16 insert effects per patch, plus global reverbs and choruses. Mastering effects are provided for polishing songs created with the onboard sequencer.
The Fantom-G8 is outfitted with Roland's top-of-the-line PHA II Ivory Feel keyboard. This keyboard technology reproduces the real surface feel of ivory acoustic piano keys providing a familiar stability and comfort to the pianist. The white keys have a 2-piece structure which reduces the surface click noise when playing. The newly developed keyboard surface material is designed to absorb moisture, ensuring a secure, slip-proof feel that your fingers will love.
Features:
Keyboard and Sound Generator Section
• Keyboard: 88 keys, PHA II, Ivory feel, with velocity and channel aftertouch
• Mamimum Polyphony: 128 voices, shared with the sampling section
• Parts: 16 parts (Internal) + 16 parts (External) + 2 parts (ARX)+ 24 parts (Audio Track)
• Wave Memory: 256MB (16-bit linear equivalent)
• Waveforms: 2,153
• Preset Memory:
— Patches 1,500 + 256 (GM2)
— Rhythm Sets 64 + 9 (GM2)
— Live Sets 512
— Studio Sets 128
• User Memory per one project
— Patches 512
— Rhythm Sets 64
— Live Sets 512
— Studio Sets 128
• Effects
— Patch Multi-Effects (PFX) 16 systems, 76 types
— Multi-Effects (MFX) 2 systems, 78 types
–Chorus 1 system, 3 types
— Reverb 1 system, 10 types
— Input Effects 1 system, 6 types
— Mastering Effects 1 system, 3-band compressor
• Data Format: 16-bit linear, .WAV or .AIFF
• Sampling Frequency: 44.1kHz
• Maximum Sampling Time With 32MB: mono: 360 sec. approx., stereo: 180 sec. approx; With 544MB): mono: 108 min. approx., stereo: 54 min. approx.
• Number of Samples per one project: 2,000
Sequencer Section
• Tracks: MIDI tracks (Internal/External/ARX): max. 128; Audio track: max. 24; Tempo track: 1; Beat track: 1
• Resolution: 480 TPQN
• Tempo: 5.00 to 300.00
• Song per one project: 50
• Phrase per one project: 2,000
• Note Capacity per one project: approx. 1,000,000 notes
• Song Length: 9,998 measures
• Recording Method: Realtime recording, Step recording
• Controllers:
— Pitch Bend/Modulation Lever
— Control Knob x 4
— Control Slider x 8
— Assignable Switch x 2
— D Beam Controller
Connectors:
• Headphones Jack
• Stereo 1/4 inch phone type
• A (MIX) Output Jacks (L/MONO, R)
• 1/4 inch TRS phone type
• B Output Jacks (L, R)
• 1/4 inch phone type
• Input Jacks (L/MONO/MIC, R)
• 1/4 inch phone type
• Mic./Guitar Input Jacks
• 1/4 inch phone type / XLR type (Phantom power)(Hi-Z)
• Pedal Jacks
— Hold Pedal Jack (Half Pedal recognition)
— Control Pedal Jack (assignable) x 2
• MIDI Connectors: IN, OUT, THRU
• USB Connectors: USB Computer Connector (supports file transfer or mass storage class, and Audio/MIDI); USB Mouse Connector
• Digital Audio Interface: COAXIAL INPUT / OUTPUT
More information on the Roland G8, G7 and G6.