Lauten Audio Readying LT-381, FC-357 & ST-221 Microphones
Lauten Audio is readying three new studio microphones, the LT-381, FC-357 and ST-221.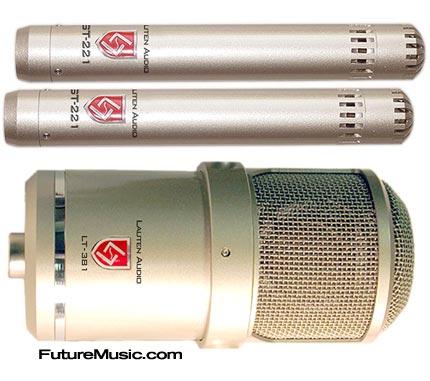 Lauten LT-381
The LT-381 features a newly designed large dual-diaphragm capsule, new-old-stock military grade pentode input and triode output circuit, and variable omni, cardioid and figure-8 polar patterns. The LT-381 is designed to be a vocal microphone that produces full and detailed recordings.
LautenFC-357
The FC-357 is a solid-state, multi-pattern large diaphragm condenser microphone. The FC-357 has class-A electronics and a dual-diaphragm capsule capable of omnidirectional, cardioid and figure-8 polar patterns. This microphone is for recordists looking for clean and natural sound reproduction.
Lauten ST-221 stereo pair
The ST-221 is a small diaphragm tube microphone that will be packaged in pairs. These microphones feature interchangeable cardioid and omnidirectional capsules, new-old-stock military grade vacuum tubes and premium high-resolution electronics. The ST-221 combines the characteristics of the small diaphragm and the tube, making it a good choice for recording instruments.
These new models are expected to ship in the second quarter of 2008. List prices will be announced by March, 2008.
Lauten Audio's LT-381, FC-357 and ST-221 microphones are expected to ship sometime during the Spring of 2008. No pricing has been announced. More information on the Lauten Audio LT-381, FC-357 and ST-221.