Solid State Logic Updates Duende To Version 2.3 – Releases X-Comp
Solid State Logic has released X-Comp, a new plug-in for their DSP powered DAW plug-in platform, Duende. X-Comp follows the recent release of X-EQ and further extends the range of plug-ins available for Duende, with another audio processing tool.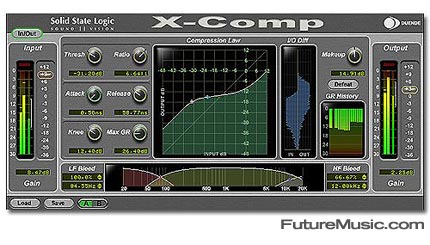 X-Comp is a stereo compressor that delivers mastering grade audio fidelity with a distinctly analog feel according to SSL. It can be used for everything from subtle dynamic control for mastering, to dramatic brick wall effects that competes with the SSL Listen Mic Compressor. Between these two extremes X-Comp can reproduce the characteristics of a wide range of modern and classic vintage compressors. In X-Comp we haven't just modeled a particular compressor, but have provided a set of features and controls that allow the emulation of a broad range of compressor designs.
Features:
• Advanced graphic knee control with 0 to 40dB range and proportional response characteristic
• Dual symmetrical knee design allows detailed shaping of the compression characteristic
• Max Gain Reduction control sets the maximum reduction between 20 and 60dB
• Advanced side chain architecture using 1st order filters
• Amplitude Histogram display provides advanced realtime pre/post signal analysis
• Intuitive user interface with drag and move graphic, mouse wheel and numeric editing
• Stereo input and output metering with peak hold
• RMS meter and dynamic range display
• A/B facility for instant comparison of two different Compression set ups
• MIDI control capability for all parameters
• Global soft latency free bypass
SSL's Duende 2.3 software can be downloaded for free at SSL and includes a fully operational 10 hour trial version of X-Comp. More information on SSL Duende 2.3 and X-Comp.