Universal Audio Releases SPL Transient Designer, Precision Buss Compressor & Version 4.9
Universal Audio released two new plug-ins as part of their new 4.9 version software. UA partnered with SPL to unleash the Transient Designer plug-in for the UAD Family of DSP Card's and Powered Plug-Ins. The UA modeled, SPL authorized and endorsed version of Transient Designer's unique Differential Envelope technology is now available as a AU/VST/RTAS plug-in. The second plug, The Precision Buss Compressor, is a dual-VCA-type dynamic processor. Their press release, like most of their communications, is a garbled mess since it appears they do most of their copy writing after work at the pub, but this is what we can tell you.
SPL Transient Designer Features:
• Increase or decrease the transients of percussive sources for greater impact, or a softened response
• Sustain of sources can be transparently shortened or increased for increased musicality
• Reduces or increases room sound or preexisting reverb on virtually any source
• Highly useful as a gate substitute, a transparent tool for minimizing mic bleed
• Versatile mix tool endorsed by world's finest professional engineers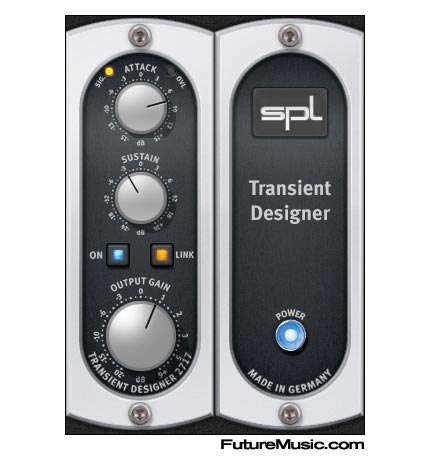 Version 4.9 also includes the Precision Buss Compressor, a dual-VCA-type dynamic processor that UA claims possesses a modern, transparent gain reduction vibe. It is specifically designed to "glue" mix elements together for that cohesive and polished sound typical of master section console compressors.
Precision Buss Compressor Features:
• Easy-to-use single-band gain control for busses and inserts
• Transparent, large-format center-console-type dynamics control
• Auto release for transparent buss compression on a wide variety of sources
• Automatic Fade in or out, with a range of 1 to 60 seconds
• Mix control allows blending of wet and dry signals
The new version 4.9 includes 14-day fully functional demos of both the new SPL Transient Designer and new Precision Buss Compressor; a classic center-console mix compressor. Registered UAD customers can purchase full authorizations of each plug-in for $199. For a limited-time, the new plug-ins will be eligible for discounts as part of the current UA store promotion until December 31, 2007.
More "information" on UA version 4.9, SPL Transient Designer and the Precision Buss Compressor.