Sugar-Bytes Releases WOW Filter Plug-In
The innovators at Sugar-Bytes have released the WOW filter plug-in for Mac and Windows. The great sounding filter contains an intuitive modulation system and brings you perfect vowel sounds.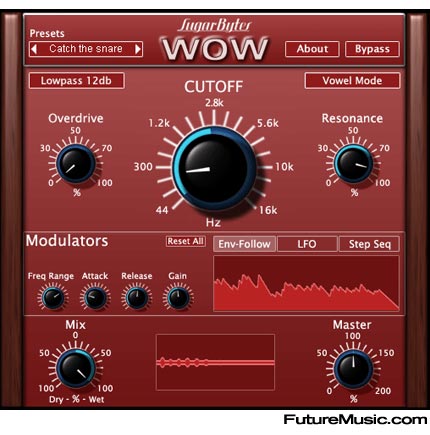 The modulation signals can be mixed individually for each parameter but also can modulate each other for more extreme results. For example, the LFO-rate can be modulated by the Envelope Follower, while the Step sequencer modulates the Envelope Follower's Gain for grooving, moving, unheard effects.
When Sugar-Bytes developed the Filter Algorithm, the gave special attention to the linear Amplitude response over the whole frequency spectrum for a fat filter sound and a perfect vowel sound. The brand new Band Crusher and LF Crusher filters match the audio signal to the same sample rate frequency as the cutoff frequency. The Band Reject filter eliminates a wide band and gives you juicy filter sounds without losing high or low end. Besides the classical filter types, WOW contains the Vowel Mode which makes everything talk what you feed through WOW.
The unique Overdrive effect will overload the signal and enlarges the harmonic spectrum for an aggressive, yet warm sound.
Filter Features:
• 12/24db Highpass
• 12/24db Bandpass
• 12/24db Lowpass
• Comb Filter
• Band Reject
• Band Crusher
• LF Crusher
Vowel Mode:
• 2 Vowels can be mixed via Cutoff Control, with all available filtertypes.
• Vowels: U, UE, O, OE, A, A:, AE, E, I
Modulation:
• Envelope Follower (frequency-selective)
• LFO (can be retriggered by the audio signal)
• Step Sequencer
Additional Features:
• Overdrive
• Mix Control (Wet/Dry)
• Master Control: Final level
Sugar-Bytes WOW is available now and costs only $99 / €79. More information on Sugar-Bytes WOW Filter Plug-in.