Prodyon Releases Asteroid – Virtual Korg Kaoss Pad
Prodyon has released Asteroid, a virtual Korg Kaoss Pad. The new DJ-Effects plug-in allows you to control a circle on an X/Y-pad that is linked to the various effects like Multi-filter, Slicer or a Phaser. Almost all parameters are fully automatable, including realtime click/pop-free effects switching. It is possible to freely route the circle's X and Y axis to various targets, such as Cutoff, Dry/Wet-Mix or Quantizing. It also features five different algorithms optimized for live use, and can be accessed via a MIDI-keyboard.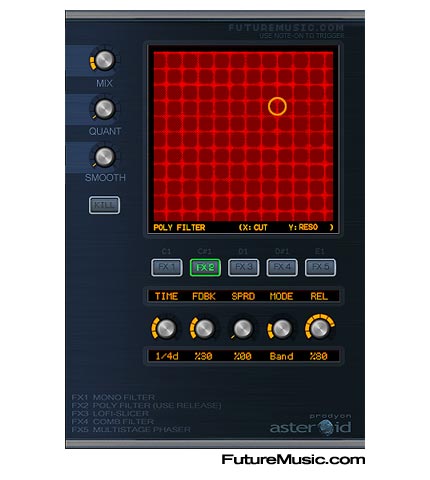 Features:
• 5 built-in effects like two filters, slicer, combfilter and a multistage phaser
• 16-voice polyphonic filter for vocoder-like effects
• Tempo synced lofi-slicer with six operating modes
• Comb filter with variable damping and inversed feedback option
• Phaser with up to 32 stages
• Separate echo/delay with spreading for each effect
• Global pad-smoothing and variable quantization
• Effects-release option for smooth fades
• "kill"-button for immediate release/feedback reset
Prodyon's Asteroid will set you back $35 and is available as a VST effect plug-in for Windows. A demo version is available on their site. More information on Prodyon Asteroid.