Tascam Now Shipping DP-02 & DP-02 CF Portastudios
Tascam has released two new digital Portastudios, the DP-02 and the DP-02 CF. The new Portastudios have been updated with a new design, new effects, and a new display.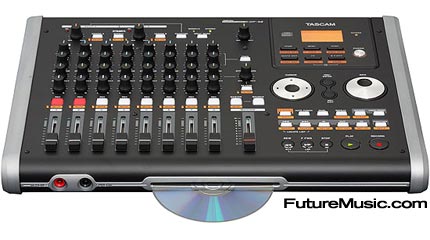 The DP-02 records to a 40GB hard drive instead of compact flash, and includes a multi-effect processor, stereo reverb and CD burner for CD masters and song backup. Both units feature a Portastudio-style interface so that musicians can mix with knobs instead of digging through menus. The DP-02CF includes a 1GB card as a pre-holiday premium.
Features:
• Two XLR mic/line inputs with phantom power for condenser microphones
• Eight-track recording at uncompressed 44.1k/16-bit audio quality
• Portastudio-based interface with volume fader, pan, effect send, high and low EQ controls per channel
• EQ frequency button to access high and low EQ shelf frequencies
• USB 2.0 interface for transferring tracks, mixes and backup files to a computer
• Dedicated stereo master track for mixdown
• Internal metronome and bar/beat display for song position
• Headphone output
• Stereo line outputs on RCA analog and S/PDIF optical digital connectors
• 1GB Compact Flash card included as a launch promotion (DP-02CF only)
• 40GB internal hard drive (DP-02 only)
• Multi-effects processor with guitar, bass, vocal and drum programs featuring a new tube overdrive effect (DP-02 only)
• Stereo reverb processor with send/return controls for multichannel mixing (DP-02 only)
• Built-in chromatic tuner (DP-02 only)
• Built -in CD-RW burner for CD mastering and song backup (DP-02 only)
The Tascam DP-02 and the DP-02 CF Portastudios cost $799.99 and $499.99 respectively, and are available now. More information on the Tascam DP-02 and the DP-02 CF Portastudios.