Stanton Announces Diablo Turntable Cartridge For Europe
Stanton has announced the Diablo turntable Cartridge for Europe.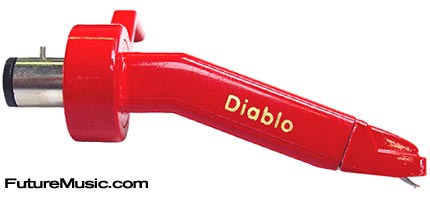 The Stanton claims the Diablo has a crisp and clear sound reproduction with an enhanced bass response, and can be mounted on to any DJ turntable without any wiring required. Thanks to its lightweight design, the Diablo has minimal cue-burn which will help pro-long the life of your vinyl records. As with many of the Stanton cartridges, the Diablo also lends itself well to turntablist use and scratching.
Features:
• Ideal for mixing, scratching & recording
• Direct tonearm mountable (concorde design)
• Spherical stylus
• 2-5g tracking weight
• 5.5mv output voltage
• 20hz – 17khz frequency response
• Unique polished red finish
• Suited for professional & beginner use
• HTFR exclusive
• Weight: 0.4kg (including packaging)
• Lifetime Warranty
The question you're probably left with here is why? What's the point of dropping a limited edition cartridge with middle-of-the-road specs? Seems like Stanton, who appears to be struggling with developing relevant products, should be focused on more justifiable orward-thinking endeavors.
The limited edition red Stanton Diablo cartridge will be distributed and sold exclusively by Hard to Find Records across the UK and Europe for €85.