CME Now Shipping M-Key Portable MIDI Keyboard
CME is now shipping their new M-Key portable MIDI controller in the US. M-Key is a 49-key MIDI keyboard featuring an ultra-thin, full-action semi-weighted keyboard, a joystick control, trigger pad, knob controller, U-CTRL and speaker.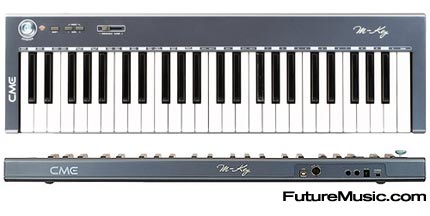 M-Key also ships with the "CME MusicPack", a CDROM with free versions of popular professional audio software including Magix Samplitude SE, Arturia Analog Factory SE, Waldorf Edition LE, TruePiano demo, Keytosound Remedy VST and Musicator MW5 UF Edition.
Features:
• 49 thin, velocity sensitive, full action semi-weighted keys
• 1 x Programmable Joystick
• 1 x function button, 2 x data entry button, 1 x slider (assignable)
• 1 x USB port, 1 x MIDI out, 2 x pedal connect
• USB MIDI, class-compliant with Windows XP and Mac OS X
• Firmware can be upgraded via USB
• Universal pedal connector, for switch and expression pedal
• Note-key shortcut function
The CME M-Key is available now in the US for $99. More information on the CME M-Key.