Flux Updates Bitter Sweet To Version 2
Flux has updated their Bitter Sweet dynamics plug-in to version II. Flux has enhanced several of the features in Bitter Sweet. The transient processing no longer depends on the signal level, and thee new parameters have been added to allow a tighter control of the transients. Three transient detection modes can now be selected, a varying period of integration for transients can be accessed, and a Link function is available to compensate the output gain regarding the transient processing setting.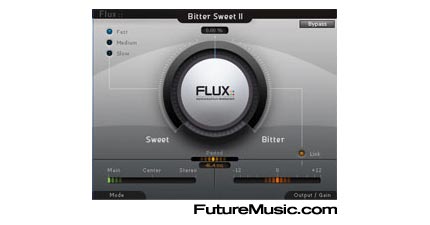 Turning the central button on the sweet side, decreases the transients amplitude. On the bitter side, the transients amplitude is magnified. Bitter-Sweet also features a control for the signal to be processed. When the main position is engaged, the process affects the stereo signal. If Center is engaged, only the M signal of the internal MS matrix is processed. If stereo is selected, only the S signal from the MS matrix is processed. Center and Stereo Modes are only available in stereo (2 channels) processing.
Flux's Bitter Sweet II is available now for Windows and Mac OS X in VST and AU formats, and will cost you nada. More information on Flux Bitter Sweet II.