Polyfractus Releases Model 1.1 – Free Modulation Delay For Mac OS X
Dragan Petrovic, a French musician and software designer, has released Polyfractus Model 1.1, a free modulation delay plug-in for Mac OS X. Model is a dynamic processor that allows you to really push the boundaries of modulation and delay, hence the name Mod-Del, to yield provocative results.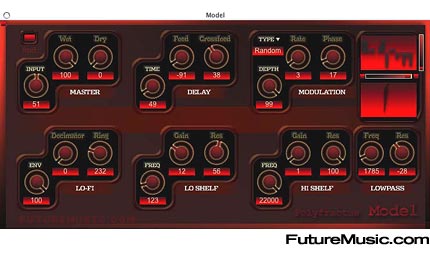 The real action takes place when you adjust the phase knob that tweaks the phase's modulation of the LFO that's assigned to the left and right channels. That moves the delays around the stereo spectrum quite nicely. There's also a solid ring modulator and a decimator to add a tad of distortion.
Polyfractus Model 1.1 for Mac OS X is available now for free. More information on Polyfractus Model 1.1.