Will 50 Cent Retire?
Updated
50 Cent, rap mogul & bullet catcher, stated that if Kayne West, producer extraordinaire & fashion victim, sold more records than he did during the first week of their mutual releases, then he would retire from rapping. Well, West not only KO'd him at the cash register, but also in quality, so let's just hope Fiddy keeps his word…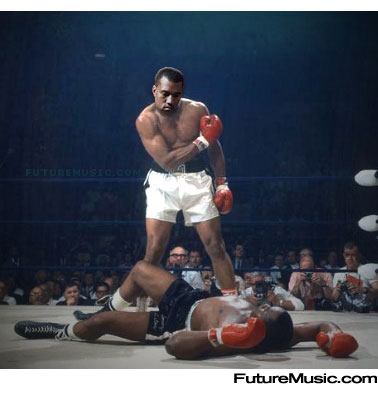 Kanye West not only won last week's head-to-head competition with 50 Cent, he also marked the highest one-week sales tally in 2½ years. West's Graduation sold 957,000 copies in its first week, 50 Cent's Curtis hit 691,000
West's album also set a new record for digital sales with 132,000 album downloads to top Maroon 5's 102,000 mark for It Won't Be Soon Before Long set earlier this year. His single "Stronger" has been the No. 1 downloaded track at iTunes for seven weeks.
The Future: Fiddy will not keep his word, since…
Curtis debuted at the top of the European Top 100 Albums, while Kayne's Graduation came in at Number 3. In fact, Graduation only hit the number one spot in the UK. Fiddy's release grabbed the top slot in Switzerland and Ireland and premiered in the top five in France, Germany, Austria, Holland and Norway, versus three for West in Norway, Ireland and Switzerland. Billboard's European Top 100 aggregates sales figures from 19 European territories.