Bose Unveils The Computer MusicMonitor
Bose has unveiled The Computer MusicMonitor, a small computer speaker system for producers and musicians. The Computer MusicMonitor system consists of two ultra-small speakers that Bose claims will deliver a neutral, full range of sound utilzing new technology that produces profound bass without a subwoofer.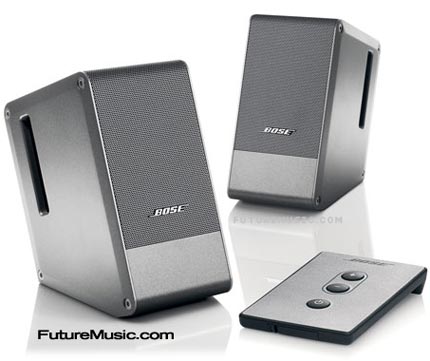 According to engineer Santiago Carvajal who conducted the press dog'n'pony show at Bose's headquarters, the bass is created by utilizing dual opposing internal passive radiators, which stand face to face inside the miniture cabinent and vibrate in opposite directions. The resulting air "movement" produces the bass, which exits out of two small exhaust ports on the sides of each speaker.
To aid in the small footprint, Bose incorporated neodymium transducers and a miniture Class-D crossover into the design. The Computer MusicMonitor use a standard 3.5mm jack to connect to your computer so they can theoretically be used for Digital Media Players as well.
The Bose The Computer MusicMonitor will begin shipping on October 4th for a whopping $399.