Weekend Fun: Music Massage Chair
China Fun Sports has introduced the DF-1688F-3 DVD Massage Chair to its lineup of exercise-oriented gear. Now you may be asking yourself, why would FutureMusic be covering a massage chair?? Well, let us tell you…
This chair synchronizes its massaging action to music!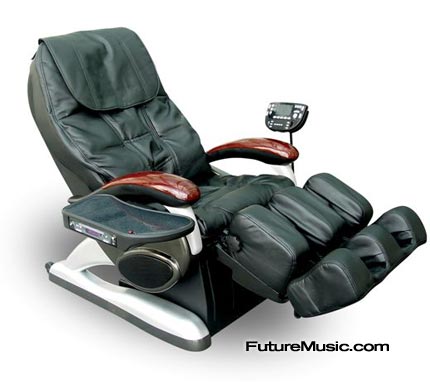 Now multimedia massage chairs are really nothing new, but this is the first product that we've come across with the ability for the user to input their own tunes to dictate the tempo of the massage. You simply insert a CD in the onboard Dolby Digital certified DVD player and let the chair do the rest. Not only can you feel the music, but you can also listen with either the built-in loudspeakers or via a headphone jack.
China Fun claims the chair's infrared sensors scan the curvature of your body and detect "the exact acu-point unique to each individual." Using that data, the chair then applies "just the right amount of pressure." Oh Baby!
No pricing or availability has been announced. More information on the China Fun Sports Music Massage Chair.