Roland Premiers M-400 Digital Mixing System
Roland has premiered the M-400 Digital Mixing System, an integrated mixing console, CAT-5 digital snake and remote-controlled stage mic preamp live PA solution.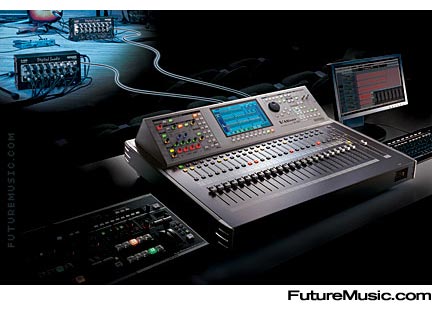 Features:
• Configurable Cat5e digital snakes
• High quality, remotely controlled mic preamps on stage;
• 48-channel M-400 Mixing Console with 16 buses, channel and bus DSP, 4 stereo FX processors, 4 graphic EQs, built-in stereo recording and playback, and built in multi-channel split port
• Up to 40 channels of limitless digital splits over Cat5e for monitor/broadcast positions and/or PC recording without any audio interfaces
• Up to 16 returns to stage over Cat5e cable
The V-Mixer is designed to be fast and intuitive to use for the beginner or the experienced professional. It features dedicated knobs and buttons for all console functions, 24 touch-sensitive moving faders, onboard Help, large – bright TFT LCD display and Cat5e connectivity for low cost installation and truly portable systems.
The M-400 is a complete digital solution maintaining 24-bit audio from the stage to the splits and back to the stage. Preamps on stage provide the highest possible sound quality and intelligibility. Cat5e snake eliminates the high frequency losses inherent in analog snakes. Onboard digital processing, channel DSP and routing eliminate any chance for buzzes from extra cabling and analog to digital conversion losses. Built-in 24-bit recording provides lossless capture of live events. The Digital Split allows lossless transmission to monitoring, recording or broadcast positions. Bus and Main LR return over Cat5e enables a complete digital signal path back to the stage.
Instantly change from event to event with 300 Scenes for total recall of all mixer, effect and routing parameters. Password level access provides only the relevant controls for any particular type of user. PC software allows loading/saving setups as well as real-time control. Libraries provide the ability to for storing custom channel, patchbay and effect settings. Direct to PC recording over Cat5e enables up to 40 channels of direct digital recording.
All this savvy digital live mixing action created a major buzz at Plasa, but Roland does not have a stellar history in the mixer department and their last foray into the digital realm was a flop. The specs on the M-400 are impressive, and the mere fact they you will not need an army of Production Assistants to schelp heavy multicore cables will have live mixing engineers begging for the Roland, so hopefully this product will redeem them — as long as they stay with the line, and give it a chance since Cat5-like systems are definitely the future.
Specs:
• Number of Channels: 48
• AD Conversion: Rate 44.1 or 48kHz
• Signal Processing: 24 bit
• Audio Connectors:
— Analog Input Balanced XLR with +48V Supply x 8
— Unbalanced RCA x 2 (L/R)
— Talkback Input Balanced XLR with +48V Supply x 1
— Analog Output Balanced XLR x 8
— Digital Output Optical x 1, Coaxial x 1
— Head Phone Stereo 1/4" Phone Type x 1
• Other Connectors:
— REAC RJ-45 EtherCon Type x 3
— RS-232C DB-9 Type x 1
— MIDI 5 pin DIN Type x 2 (IN and OUT/THRU)
— USB Type A x 1, Type B x 1
— LAMP XLR-4-31 Type x 1
• Screen: 800 x 480 Wide VGA TFT Color
• Dimensions: 749(W) x 626(D) x 229(H) mm 29-1/2(W) x 24-11/16(D) x 9-1/16(H) inches
• Weight: 20.0 kg / 44 lbs 2 oz
• Physical I/O Connectors (Stage): 8-80 (Dependent on Digital Snake Configuration)
No pricing or availability has been announced. More information on the Roland M-400 Digital Mixing System.